About This Project
School of Thought is an intensive 12-week training programme for creatives learning how to develop and pitch big ideas. Over the 12 weeks, 12 selected creatives get hosted by 12 different agencies and get given 12 briefs, with only 3 days to come up with the best ideas and pitch it back. This is an ideas program, not a graphic design one – so its all about the concept rather than the presentation. In the end, there is one winner who will win a trip to Cannes Lions.
I applied for School of Thought and was privileged to be selected as one of the 12 for 2020. Below are the 12 briefs and my 12 responses. Or you can download the full portfolio here Laura Orton SOT Manchester 2020
BRIEF 1 – 
AGENCY Absolute
CLIENT Carrs Pasties
PRODUCT High quality pasties
MEDIA Integrated
TARGET AUDIENCE Halloween loving foodies
SINGLE MINDED PROPOSITION They're unexpectedly good
BACKGROUND Pasties and pies are well-loved in the North West but unless you make them yourself, it can be a trick or treat knowing exactly what's gone into them.
Since 1937 the Carrs family have only used the best ingredients in their pasties, sourced locally from trusted suppliers. They absolutely hate the idea of using anything processed in their products.
It's no surprise their pasties taste unlike any other. They offer a range of tasty fillings and aren't scared to go beyond the traditional pasty flavours.
How do we convince families who love to get together that Carrs are a great party companion for their Halloween celebrations?
Brief 2- 
AGENCY The & Partnership
CLIENT  Royal Life Saving Society
PRODUCT Open water safety campaign
MEDIA Social
AUDIENCE Fearless fun seekers
PROPOSITION Cold water shock kills even the strongest swimmers
BACKGROUND When the sun comes out, so do water-loving adventure seekers. People love a swim in open water on a nice day. But few people know that jumping in a lake can be deadly – and not for the reasons you may think.
Even in summer, the water in lakes rarely gets above 10°C. Jumping in can lead to cold water shock.
Cold water shock is a physical reaction to being immersed in cold water. Your heart races, your muscles cramp and can't hold your breath. You can quickly lose control and drown – even if you're a strong swimmer. It is a scary and horrific way to die.
How do we get young people who feel invincible to take the dangers of cold water shock seriously?
Brief 3-
AGENCY The Behaviours Agency
CLIENT New Balance
MEDIA Open
AUDIENCE Post-Lockdown exercisers
PROPOSITION For the new ways we're moving
TONE Motivating, inspiring and independent
BACKGROUND There's no doubt about it, lockdown has changed the way we exercise. Sport and fitness addicts have adapted to life outside the gym and newbies have been out in swathes to embrace their one hour of exercise a day. Our homes, gardens, parks and neighbourhoods have become training grounds. We're free of the direct debits and towelling down the equipment. And we're smashing online classes from HIIT to yoga.
We've reset our routines and fundamentally changed our behaviour.
Now is the perfect time for a challenger brand like New Balance to launch a campaign.Using behavioural science, think up a campaign idea to motivate people to keep up their new routines and embrace independent exercise.How can a fitness brand tap into the cultural psyche of the moment in an authentic and inspirational way? Helping us all come out of these tough times much stronger than before.
Brief 4-
AGENCY Manifest
CLIENT Tommee Tippee
MEDIA Unified brand communications
AUDIENCE New mums
PROPOSITION Tomee Tippee champions her
BACKGROUND Women get told by healthcare professionals and NCT groups that 'breast is best,'. Further to that, they're often given conflicting advice on whether they should or shouldn't try to breast feed from many 'well-meaning' sources – their own partners, parents, relatives, friends… sometimes complete strangers. Everyone has a view, and often, everybody makes a judgement on her choice.
Breastfeeding can be a challenge and, even when successful, many mums feel judged for feeding or pumping in public. For some mums breastfeeding just doesn't work for them. In turn they all feel like they're being judged for their choices. This judgement – breastfeeding or bottle feeding – can affect their experience of being a mum, their relationship with their baby, their wellbeing, and their sense of identity.
How can Tommee Tippee empower women to help tackle judgement head on and feel confident in their choices – whether they breastfeed from the boob, express feed, bottle feed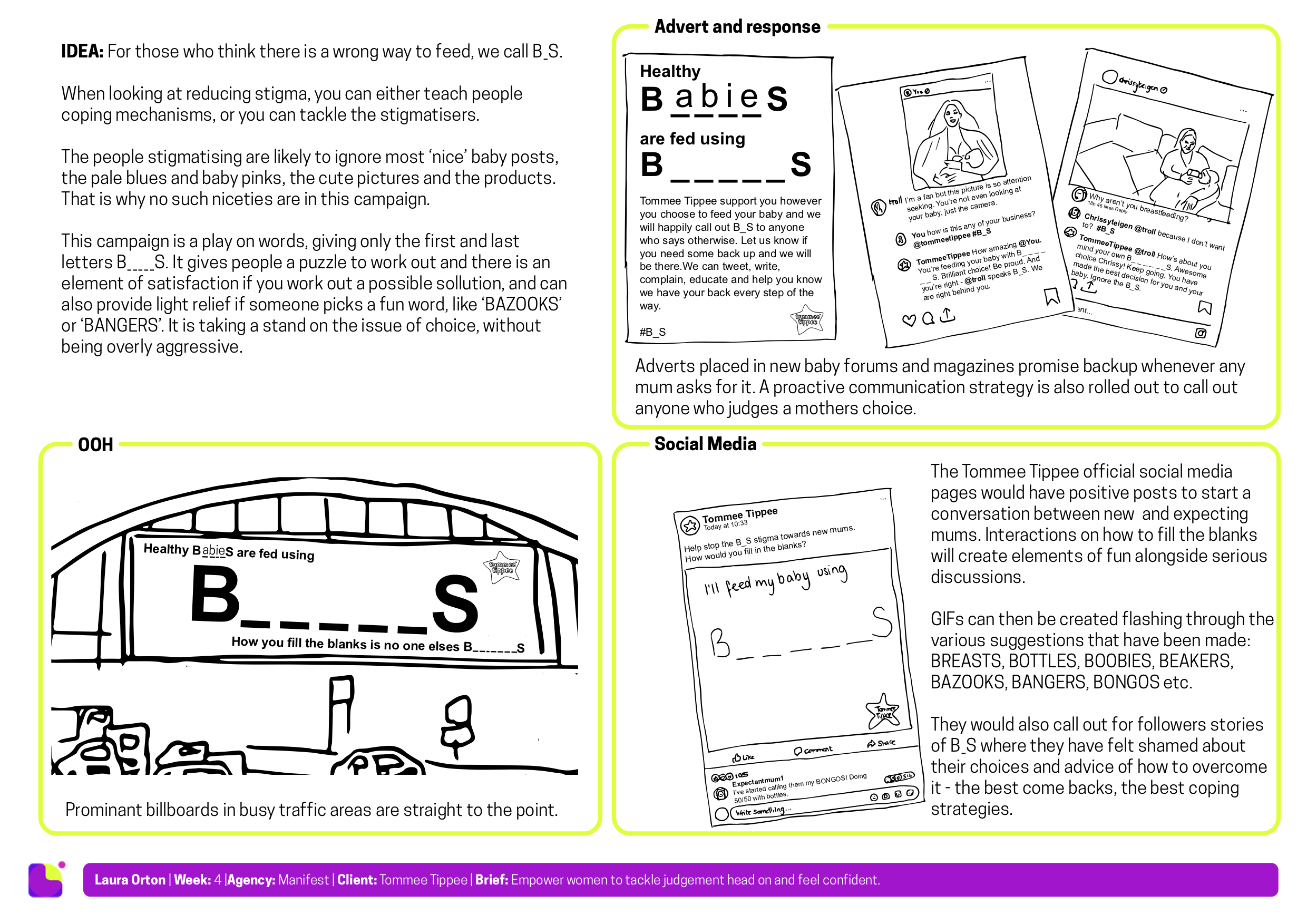 Brief 5-
AGENCY APS
CLIENT Barnardos
MEDIA Direct mail
AUDIENCE Privileged parents with a big heart
PROPOSITION Save Christmas for kids in who need it most
BACKGROUND Barnardos protects, supports and nurtures the UK's most vulnerable children. Last year, 30% of the UK's children lived in poverty (4.2million). By the end of this year, this figure is set to increase to 44% due to the effects of COVID-19 on unemployment.
For many of these children Christmas doesn't exist, and for some this is the first Christmas they won't find a present under the tree. Barnardos want to run a recruitment campaign to 'save Christmas' and to build awareness of what they do and the services they offer.
How can we create emotional impact and trigger a response through Direct Mail?
Do we make the audience aware that giving doesn't necessarily mean money? Is it volunteering time? Is it a gift drive? Or do we suggest partnering with a retailer who can really help make a child's Christmas? Budgets may be tight, creativity is not. Challenge on, elves!
Brief 6-
AGENCY McCanns
CLIENT Oatly
MEDIA Print
AUDIENCE Choosy coffee connoisseurs
PROPOSITION Just as creamy as cow's milk
BACKGROUND The world of non-dairy milk alternatives has exploded. There's soy milk, almond milk, rice milk, hemp milk, cashew milk, coconut milk and quinoa milk. Many people love them. Others have tried one or more of them and weren't convinced.
One of the common complaints that people make about milk alternative products is that they just don't taste like milk. There's something about the texture and flavour that is just too different from what people are used to.
Oatly is different. It is (as the name suggests) made from oats. Unlike other milk alternatives, Oatly has the same creamy texture of cow's milk so it's perfect in coffee. How can we convince people who love 'real' milk in their coffee to give Oatly a go?
Brief 7-
AGENCY TBWA/MCR
CLIENT Ann Summers
MEDIA Integrated
AUDIENCE Horny housebound pleasure seekers
PROPOSITION The home of Covid-safe sex
BACKGROUND Life in lockdown is no fun for anyone. But it's even less fun if social distancing has totally killed your sex life. Many young couples are being forced to quarantine separately meaning that sex lives have to be lived remotely. And with in-person dating off the cards, singles people are even more sexually frustrated. That's a lot of people who aren't getting their sexual needs met. It's no surprise that Google Trends reported a 190% search increase in 'sex toys for women'.
How can Ann Summers capture this captive (literally) audience and help them meet their sexual needs?
Brief 8-
AGENCY Ear to the Ground
CLIENT PlayStation
MEDIA Social
AUDIENCE Celebrity loving casual gamers
PROPOSITION Play has no limits
BACKGROUND Every keen gamer knows the PS5 is coming. The gaming media, gaming blogs and tech blogs have been waiting for this moment for as long as they can remember. But to truly take the launch of PS5 to the next level we need to spread the word wider. Gamers come from all walks of life and they don't necessarily consume gaming media. We do know that this wider audience is highly influenced by celebrities – especially sport.
PlayStation have signed up Charles Leclerc (F1), Coco Gauff (Tennis), Raheem Sterling (Football) & Donovan Mitchell (NBA) for this campaign. How can we infultrate the social media channels of sport and sports celebrities to get all gamers excited about the new PS5.
Brief 9 –
AGENCY Audio Always
CLIENT Nuheara
PRODUCT IQbuds Max 2
MEDIA Audio
AUDIENCE Hearing challenged gadget lovers
PROPOSITION Hear every detail
BACKGROUND Millions of people suffer from mild hearing loss. Because they can get by with the diminished hearing, most of them never look for ways to improve it. And they would definitely never consider a hearing aid.
Nuhera is a high-tech audio company that has developed a range of award-winning earphones that are much more than they appear.Their IQbuds Max 2 is a hearing aid disguised as a set of cutting edge earphones, making them the world's most advanced hearing buds. They combine the style and function of high end ear buds with the life changing benefits of hearing aids.
How can we persuade people with mild hearing loss that while they may hate the idea of a hearing aid, they will love the new IQbuds Max 2. Find out more about the product at: https://www.nuheara.com/products/iqbuds-max/
Brief 10-
AGENCY Havas Lynx
CLIENT Montreal Heart Institute's ColCorona Trial
MEDIA Digital posts on Instagram, Facebook and digital banners
AUDIENCE These are people who feel it's their moral duty to help those more vulnerable than themselves. They believe we have a collective responsibility to find treatments and vaccines to defeat this terrible virus and protect our nation
PROPOSITION A chance to play your part in the fight against COVID-19
BACKGROUND There are over 300 trials for COVID-19 running in the US all of which are fighting against the disease. Patients have a lot of choice and the marketplace is crowded.
There are limited treatment options available for COVID-19. This presents the opportunity to take a drug that is safe rather than just sit home and wait.
ColCorona are looking for 1000 US-based patients aged 40+ with a positive COVD-19 diagnosis in the past 24 hours and a high-risk factor.
Make patients consider a clinical trial investigating Colchicine (a drug already proven for other conditions) as an option for the treatment of their COVID-19 infection. People who would join a clinical trial for an experimental drug, where they only have a 50% chance of getting it, at a point when they aren't bad enough to go to hospital at a point when all they feel like doing is staying in bed.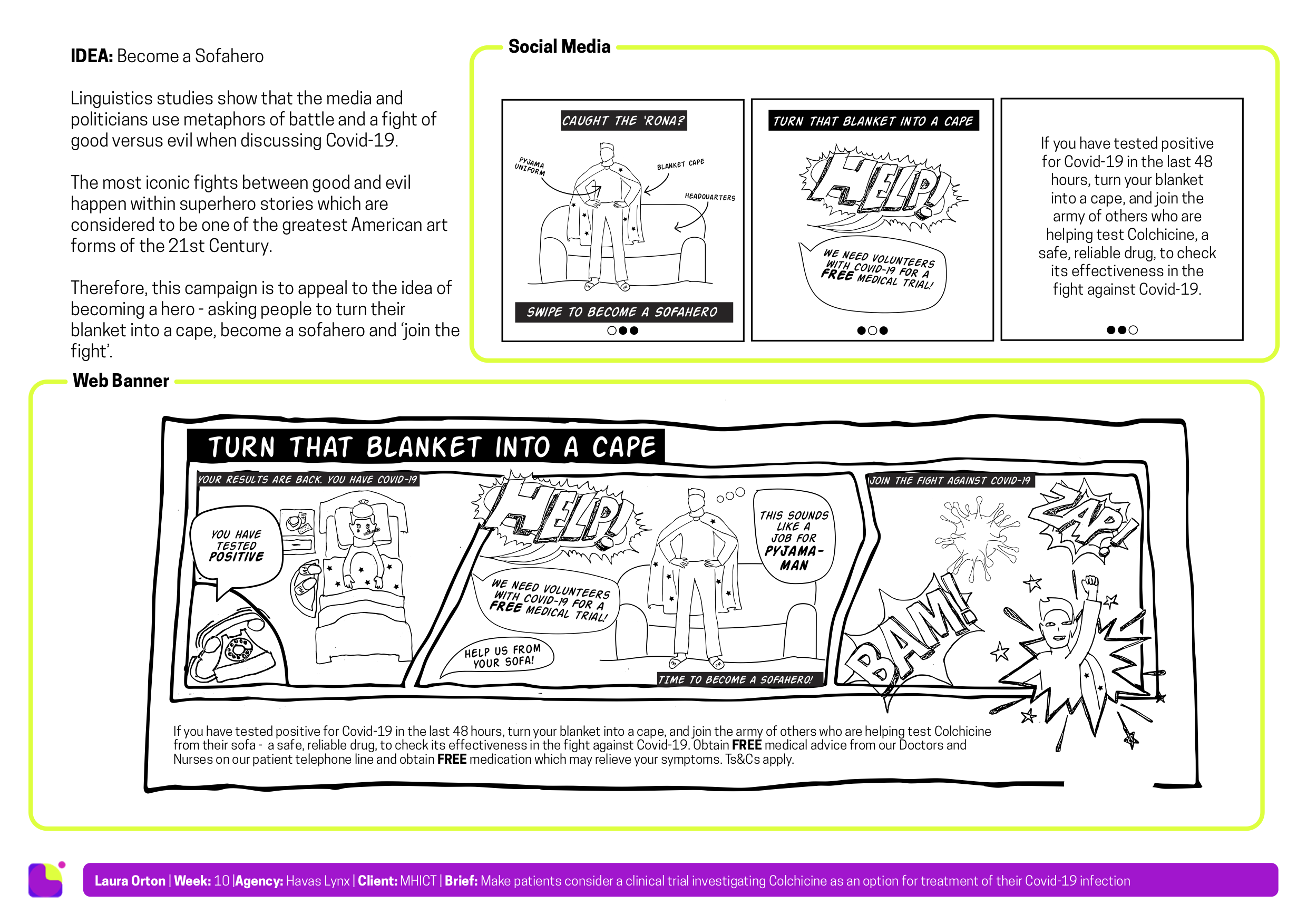 Brief 11-
AGENCY Social Chain
CLIENT Amazon Prime Video
PRODUCT Video Streaming Service
MEDIA Social/Activation
AUDIENCE Offbeat Rebels and Quirky Underdogs (18-34)
PROPOSITION A streaming platform made by fans, for the fans
BACKGROUND Prime Video are looking to launch a socially-native campaign for Christmas. They want activations which embody their brand values of storytelling, defying stereotypes, celebrating underdogs and encouraging well being. Ideas should assist the core, overall objective – to create 'brand love' and drive engagement.
While Prime Video have a handful of great Christmas titles this year including "The Holiday", "New Years Eve" and "Four Christmases" they can't compete against the likes of Netflix when it comes to choice. With that in mind, consider what other brands might be doing and lets run in the opposite direction. Be real and honest. Nobody has time for bullshit this Christmas.
Brief 12-
AGENCY BBC
CLIENT Comic Relief
MEDIA TV (30 second advert)
AUDIENCE Our audience have never been in a world quite like this. With so much stress, upheaval and uncertainty, the case for relief (and charity) has never been clearer. We want to be the brand that owns humour and being funny as the antidote and escape from these dark times.
Active organisers: Those likely to fundraise, encourage friends and family to get involved.
Sofa supporters: Those likely to tune in for RND and donate on the night.
PROPOSITION Funny is the power to save the world
BACKGROUND The pandemic has left people feeling removed, isolated and without agency. But when people feel uncomfortable – they laugh. It's our antidote to being nervous and afraid. And while our nation has felt powerless to help, they've sought respite in the ridiculous: flipping the switch, the pillow challenge, isolation outings, making quarantinis etc.
But rather than seeing this as frivolous or just passing the time by, we want to celebrate, highlight and encourage this behaviour, because it can (actually) have real value. Comedy has seen us through the darkest of times. And now it can help us make the biggest difference yet.