The Penguin Student Design Awards is an annual competition for students and recent graduates. The task is simple  – design an effective cover for their chosen books. I chose to enter their non-fiction category which was a book called The Establishment. The Establishment is a political commentary by Owen Jones. He argues that government is rotten to the core. It looks squeaky clean from the outside but is capable of crumbling down due to the amount of corruption within.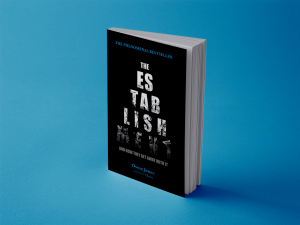 I have portrayed the themes of The Establishment by simulating a house of cards style structure with the letter forms. If you remove any of the bottom layers, then the whole stack would fall down. I have added a gradient and a broken texture showing the clean and bright surface and the rotten base. This echos the sentiments offered by Jones.
The competition details can be found here.
Contact me if you would like a book cover designing.