Shared Parental Leave (SPL) has many challenges. I feel the most important is a lack of awareness it even exists. This, mixed with cultural expectations it is solely the mother's job to raise a baby. This removes choice from the parents and prevents progression, affecting society as a whole. Therefore, Re-Think Dad is my Shared Parental Leave campaign to raise awareness and increase its uptake. I used letterpress to make the logo with a DIY punk feel. Those fathers who currently take SPL are rebels against the norm and still doing something considered unusual.
My Shared Parental Leave campaign starts with a series of large scale posters designed to advertise and direct readers to the website. The slogans I created are designed to be seen by anyone, in a bid to change opinions of society as a whole. They are provocative to encourage debate.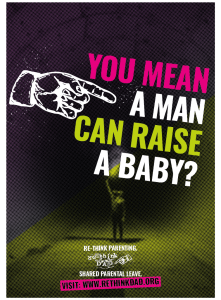 Men taking Shared Parental Leave are encouraged to wear promotional t-shirts to highlight what they are doing and challenge the comments people make. The front slogans are all comments and conversations that the men I spoke to had experienced when they were out alone with their child. They directly confront people's perception of them while also advertising the Re-think DAD campaign.
The website (including mobile version) is the main source of information for parents who want to learn more about SPL. It is honest about the successes and flaws of SPL so as not to cover up the inequalities, allowing people to make informed choices. It includes a simpler explanation to eligibility as the current government document is complicated and difficult to understand. The website includes personal stories from those who have already made this decision and what they experienced. This website is currently live at www.rethinkdad.org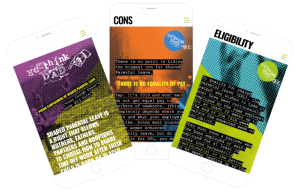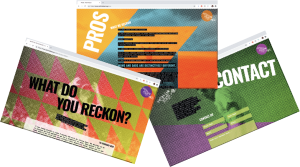 This leaflet is designed specifically for expectant fathers highlighting why SPL is so good for baby, him and his partner. They will be placed at GPs, midwife appointments, hospitals, left on workplace noticeboards or community locations. Wherever new dads are likely to be during the pregnancy and early months. Again, it signposts readers to the website.
If you love campaigns for social change, check out another of my campaigns Natures Got It Covered